Online Store

Back
Product Name
:
Home & Office [CPO]
Product Code
:
TRM-NIF-IT-BU
Price
:
RM 158.00
Availability
:
Yes
Quantity
:


Product description:
The 3-sided Trinity Tower CLLI was designed to minimize the footprint of plugs and wires via a unique stacking system, providing a cleaner and tidier outlook.
It can be made up of one to 3-levels: TRM-BU or TRM-PE at the base + TRM-EP(of any combination) in the middle + TRM-OTO on top as an organizer-tray!

Rating: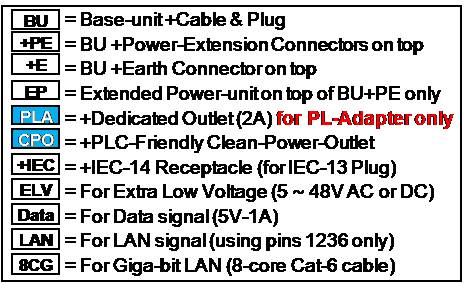 1x TRM-CLLI with 2-Outlets for PLC-friendly
clean-power & 2-Feedthrough Module for RJ-45 (LAN) & RJ-11 (Analog).
(1.5 meter cable with 13A-UK format power plug)
Equipment-setup connected to DSL & to power-line only. The internally linked filtered Analog output RJ-11 can be used for FAX or Cordless-phone.
*The total CPO (clean-power outlet) limit is 10A.
*A power-strip may be added to the CPO, provided the total current does not exceed 10A.
TRM-NIF-IT-BU
-Home & Office [CPO]
Price: RM 158.00